Line of Business
Various support systems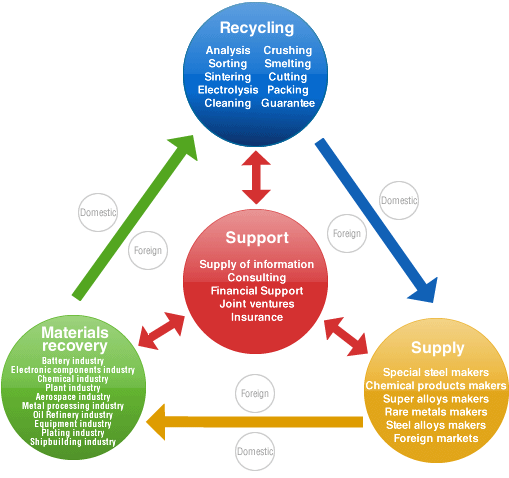 As illustrated above, our primary line of business is recycling metal resources. In addition, we also sell secondary products (non-standard or surplus products) for reuse. We are also able to assist in providing a variety of secondary-line base metals and auriferous metals as requested.
Materials recovery
We collect all types of scrap non-ferrous, rare, and precious metals. From a small quantity of sample metal, we can precisely analyze its composition in-house or at a public analytical laboratory, and you will be informed of the results of the analysis, the value of your metal, and other details. We also offer to you a purchase price at that time based on the amount of your metal.
Precise metallic composition analysis in-house or at a public institute
Quick offer of a high purchase price
Picking up your metals by truck
Consulting on environmental protection and legal compliance
Recycling
Based on our know-how acquired through our 35 years of experience and on our fully equipped and well-managed Warehouses and metal yards located in Osaka, Kobe, and Tokyo, we scrap rare metals and turn them into most-valuable rare metal resources for reuse.
▶For more details about our metal recycling processes, see "Workflow."
A variety of equipment
Operations by qualified workers
Know-how gained through 35 years of experience
Quick purchase and payment
Supply
Metaldo supplies and sells a wide range of rare metals, recycled metals, and ingots. We offer not only high-quality rare metals and recycled metals, but also consulting services such as those regarding metal product trends/processing and licensing/certification procedures.
Offering high-quality rare metals and recycled metals
Consulting on licensing and certification procedures
Providing information on metal product trends and processing
Please contact us with any questions or suggestions regarding rare metals.
We look forward to hearing from you.